Our approach for interaction designs (IXD) considers user behavior and targeted user interactions which are based on context of use. The end result is always highly functional interfaces that are touch, swipe ready and delights users with interfaces that renders across desktop, laptop, tablet and mobile screens without any loss of functionality.
The interactions are designed with your users in mind and is where "user-centered design" comes in. Using the principles of "user-centered design", we create immersive interaction designs (IXD) way that website or an app can be viewed and usable even on a tiny cell phone or on tablets or even on a slow internet connection.
Our Interaction Design Process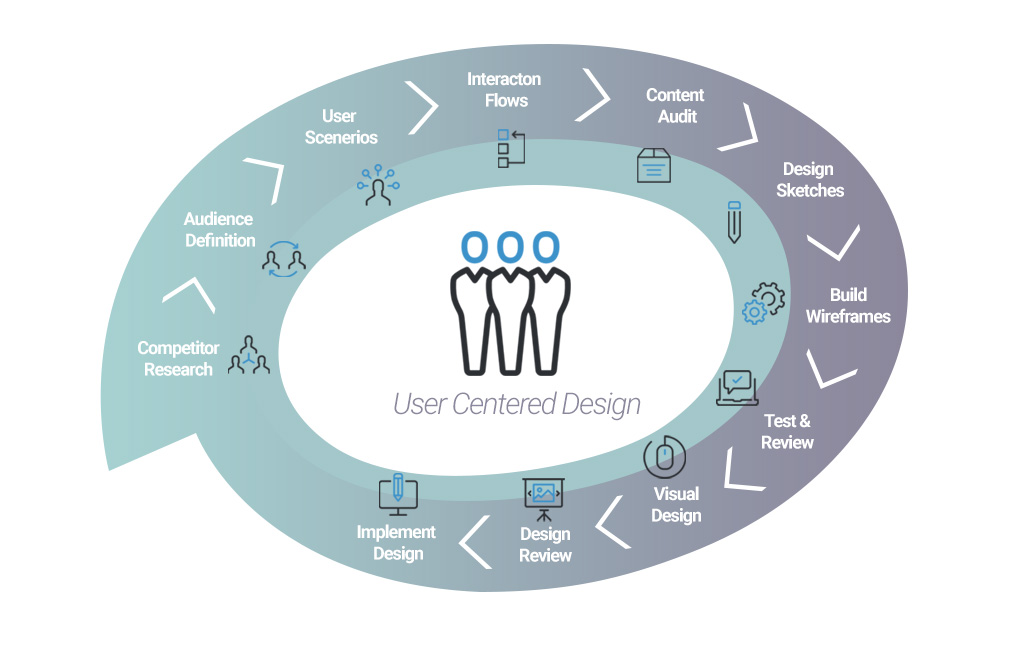 Our experienced interaction designers have successfully delivered pixel perfect web designs that work across devices. What are your users needs? What problems you are trying to solve? Interaction Design is the process of defining and designing how the user will interact with your website or app. This includes the core functions how do users interact with your website or app. These interactions needs to be clearly defined and designed for optimal user experience.
Our user-centered interaction designs anticipate user interaction patterns, logical flow & sequence, linear progression, with consistent architecture that yields results. Our interaction design process uses core principles of usability where we constantly evaluate whether the website or app meets the following goals:
Easy to use (effectiveness)
Efficient to use (efficiency)
Has good utility (utility)
Easy to learn (learnability)
Easy to remember (memorability)
Going beyond core interaction design we map the interaction flows with your inbound marketing goals. Designed to take your customer experiences to the next level, quickly and cost-effectively we work with you, map and deliver consistent brand experience across your user interactions channels (Web, App, Social Media). Here we will work with your marketing and customer service teams to deliver highly relevant marketing content around user interaction pathways to enhance the user experience that drives up lead flow and customer loyalty. We deliver:
Rapid experience strategy and prototyping
Intent-driven Information Architecture
Cross-device accessibility compliance and usability
Customer lifetime value / full life-cycle experiences