We provide end-to-end E-commerce solutions with highly scalable Digital Catalogs, Shopping Cart and Payment Gateway Integration.
Stand apart with a custom designed / feature rich E-commerce stores that work. Our Multi-disciplined teams have the capability to deploy E-commerce systems in Dot Net and PHP technologies. Our range of flexible and scalable E-commerce applications allow us to offer you rapid build and deployment across multiple platforms.
The E-commerce solution we provide offers unmatched flexibility where we build to your specification and by applying business rules, which are unique to your business. Moreover we combine our E-commerce solution with our website design services and the end result is fully custom designed and purpose built E-commerce solution for your business.
Our E-commerce solutions comes with the following features:
Allows your customer to browse a limitless number of products and product categories.
Customers can add/remove and modify products to their shopping cart.
Intuitive checkout system minimizes shopping cart abandonment.
Dynamically calculates delivery costs based on postcode and shipping weight.
Automatically generates and emails a Tax Invoice to your customer.
SSL 128 bit encryption for secure transactions.
Supply and Sales channel integration.
Digital Catalog Management.
Complete content management.
Complete Inventory Management.
Shipping and Taxation Management.
Order management Systems.
Payment Gateway Integration.
Integrated CRM systems for 1-0-1 customer relationships.
Search Engine friendly catalogs.
Our E-commerce development process: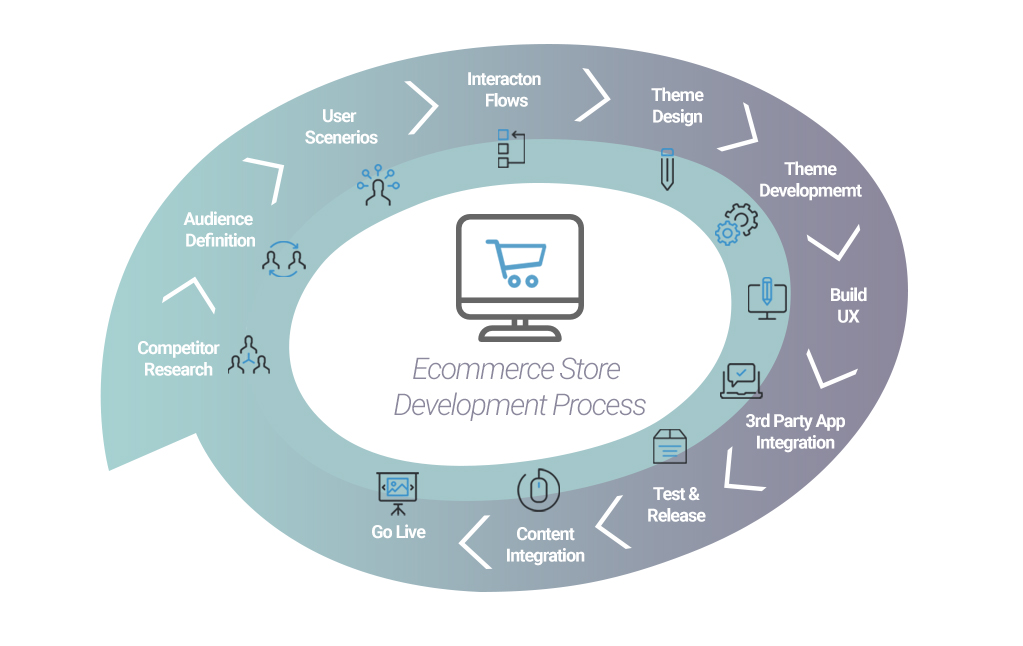 Our E-commerce design & development services include:





We take care that our E-commerce sites are:
Supports Responsive Designs
Mobile / Tablet Friendly
W3C / WCAG Standard compliant
Supports PCI Data Security Guidelines
OWASP Standard Compliant
SEO & Social Media Friendly
We deliver E-commerce solutions using the following platforms:
We ensure that all our E-commerce solutions are SEO-friendly. This gives your online business the visibility your website deserves. Our scalable Magento solutions grow with your business, which ensures the smooth running of your E-commerce store.