Is your website turning your visitors away? Conversion Optimization insures that your Website and Marketing campaigns that you are running is generating the required leads towards business ROI.
X-istech can help you with our years of experience in Internet Marketing and User Experience Design to turn more visitors into leads.
What are the reasons of poor conversion? The main reasons are wrong keywords generating poor quality traffic, offer not compelling enough, poor user experience and last but not the least low trust score.
Once a visitor comes to your website or landing page what action do you want them to perform? These are mainly- Inquire / Buy / Download / Opt-in / Register / Make a phone call / Click to chat etc. Along with analytics data we also conduct detailed UI/UX test to see if your visitors are being turned away due to poor user experience. Our Internet Marketing and UI/UX experts will the work closely with you to create landing pages that convert.
Here we work with you to identify conversion optimization opportunities through a detailed study of your analytics data to find out the root cause of poor conversions. Then we put the data in practice so that the conversion rate and cost of conversion improves.There is 2 sides to the story here
Marketing (Content, Keywords, Traffic, Offers)
User Experience (Poor User Experience and Low Trust Score).
The process is defined below: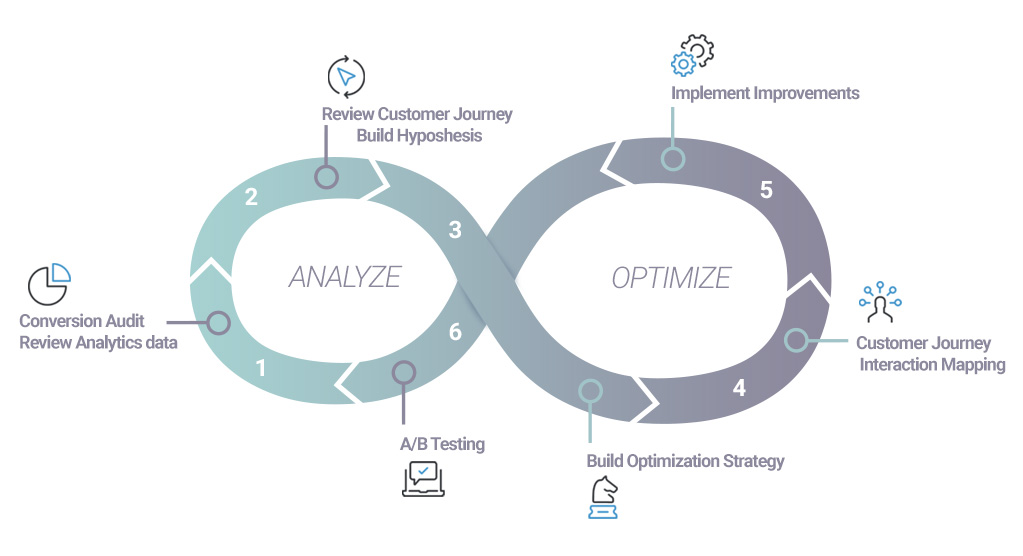 Our Web Development Services